The Adhiparasakthi Charitable Medical Educational and Cultural Trust, Melmaruvathur
"Unity of minds, and the path of meditation should spread. Everyone should think of every other's life as their own. The egoism of 'I' should die and the thought that "Everything is sakthi", should be held in this world." ~ Amma's oracle
Amma strongly emphasises that service to Mankind is service to God. This led to the Adhiparasakthi Trust being founded in 1978 to render community service irrespective of caste, creed and religion.

The activities of the trust are guided through divine oracles and include free educational, medical, cultural and social services for the welfare of the society.

---
Charitable Activities
Aid Appliances to the Handicapped
Relief to victims of natural calamities eg flood, drought, fire. During such disasters, continuous medical assistance is also provided
Free Homes provided to the poor with basic amenities including bore wells and electricity
Charitable Homes for those with handicapped, who are orphaned or elderly
Solemnising Free Marriage for those who cannot afford it
Adoption of children belonging to prisoners serving life and death sentences
Free distribution of plough, sprayer, ploughing bulls and pumping apparatus to farmers
Loans for farmers.
Renovating dilapidated temples
Helping the widows and destitute
---
Mass Feeding
"Atheism should be destroyed and Spirituality should spread; The God consciousness and faith should prevail strongly with the people. All the hungry stomachs should be fed and their life expanded. Provide food, clothe and shelter to all the poor and needy. Those who visit this Temple (Siddhar Peetam at Melmaruvathur, India) should give up their evil and take the path of righteousness." ~ Amma's oracle
Free food is served to all devotees visiting the Siddhar Peetam and during large festivals. Donors who wish to contribute towards this scheme are encouraged to do so.
---
Medical Activities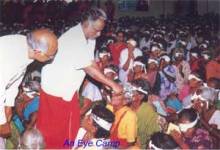 "In this kaliyuga, the simplest and easiest path to reach Me (God) is to completely surrender in me and do the service I assign to you without questioning it. No amount of prayers, mantra recitation or yoga is equivalent to service to humanity with devotion."
In 1986, the Adhiparasakthi Charitable Hospital and Research Centre started free medical services covering around 750 villages and hamlets around Melmaruvathur. The first phase of this super-speciality 200-bed hospital has been constructed, with the plan to upgrade to 2000 beds over subsequent stages.
Blindness is one of the leading health issues in rural India. As such, from 1991, eye camps are conducted yearly, a week prior to Amma's birthday. Screening for eye diseases, basic treatment, eye glasses and follow up surgery is provided free of charge to the surrounding villagers.
Free immunisation programs for children and free maternity assistance are rendered to the rural woman folk.
Medical camps for general check-up, Dental camps, Skin camps, ENT camps, Geriatrics camp, Paediatrics camp, Veterinary camp and blood donation camps are also held every year.
---
Educational Activities
The Adhiparasakthi group of educational institutions has provided education at various levels leading to professional degrees over the past 10 years.
These include:
Institutions at Melmaruvathur
Adhiparasakthi Polytechnic
Adhiparasakthi Matriculation Higher Secondary School
Adhiparasakthi Engineering College
Adhiparasakthi College of Physiotherapy
Adhiparasakthi College of Pharmacy
Adhiparasakthi College of Nursing
Institutions at Melmaruvathur
Adhiparasakthi College of Science
Adhiparasakthi Agriculture College
Adhiparasakthi weekly worship centres (Mandrams)
"By participating in joint worships, your previous Karmas will be consumed. You will receive Sakthi's grace. You will be relieved of your sorrows." ~ Amma's oracle
Weekly worship centres (Mandrams) form the pillar of this movement. As ordained by Amma, they are affiliated to the Siddhar peetam trust. Currently there are 2500 Mandrams world-wide, whose main function is to conduct group prayers on a weekly basis for the spiritual upliftment of mankind and also engage in continuous selfless service for the benefit of society.